On this Site You Will Read About
Information about leader in solar market
Jinergy producer of HJT solar panels
Jinneng Clean Energy Technology Ltd. (Jinergy) is the world's leading producer of HJT and PERC (with GAL) photovoltaic panels and a clean energy supplier, registered within the Jinneng Group on December 31, 2013. By the end of 2020, Jinergy had delivered over 6, 5 GW, including HJT and PERC panels, to more than 30 countries around the world.
Jinergy Group in PV Market
The company is a producer of photovoltaics in the green energy sector in the Jinneng Group. JINERGY has implemented an innovative production strategy including technology iteration, intelligent production and flexible planning. Striving to be a leader in the production technology of HJT N TYPE photovoltaic panels and PERC with Gall in the world. The company has modernized the entire production line and key equipment based on the developed intellectual property and patents. Plants of silicon cells (N-Type, HJT panels) and HJT photovoltaic modules, implement intelligent production management systems, automation, MES, ERP, etc. Thanks to this, the quality of Jinergy's photovoltaic modules is at the highest level.s.
Jinergy panels performance
The Jinergy company focuses on high-quality workmanship and the latest technological solutions. Due to the choice of HJT (heterojunction), which combines the best qualities of crystalline silicon with amorphous thin-film silicon, the efficiency of Jinergy photovoltaic panels is very high. Already in 2019, the efficiency of HJT photovoltaic cells from this manufacturer reached 24.73%. The high efficiency of Jinergy modules is also influenced by the use of Bifacial technology, no LID effect and no PID effect in the JNHM series.
Efficiency - measured by the efficiency of cells and entire modules - Perfect results 98.%
Construction- use of double glass and half-cut - Solid & Reliable 96%
Profitability - price-quality ratio, very profitable solar panel- High Value For Money 93%
Mounting - Durable half-cut, glass-glass frame & Bifacial - Useful and easy to install solar panels 94%
Advantages of JINERGY HJT Solar Panels
Best in Class PERC AND HJT
JINERGY HJT 144 Cells 445-465W
N-Type MBB HALF-CUT BIFACIAL DOUBLE GLASS MODULE
JINERGY JNBM120 Cells 355-375W
P-Type Gallium Dopped BIFACIAL DOUBLE GLASS MODULE
JINERGY JNBM144 Cells 430-450W
P-Type Gallium Dopped BIFACIAL DOUBLE GLASS MODULE
Jinergy 8mW solar Installation
Utility Scale Solar Farm 5mW
Utility Scale ROOF Solar Installation
Commercial Roof Installation Jinergy
How to Chose Best HJT Solar Panel ?
HJT High-Efficiency Photovoltaic Panels
JNHM120 POWER: 370 ~ 390W
JNHM144 POWER: 445 ~ 465W
Jinergy's double-sided (BIfacial) HJT (n-type) module with very high efficiency, with the use of its own silicon cells with an efficiency of over 24%. It has excellent low light performance, low-temperature coefficient, and very low degradation. Due to the possibility of a two-way generation of energy, the module provides a power increase of 10% -35% in diverse environments and an overall power increase of 44% compared to conventional photovoltaic modules.
HJT Solar Panel Functions
Bifaciality> 85% efficiency and improved rear power generation.
Excellent temperature coefficient and low light performance, plus extremely low degradation.
MBB and half-cut design reduces shadow effects, improves module reliability, and reduces power production losses.
44% more energy than ordinary solar modules.
Compatible with 1500V systems for higher efficiency and lower costs for large investments such as solar farms.
Modern technology based on N-Type technology cells
Construction of Jinergy panels
Jinergy, as a producer of photovoltaic modules, cares about the highest quality of workmanship. The quality of workmanship is also confirmed by a 30-year warranty against linear power loss. This means that if nothing happens with the [solar panel after 30 years, its power should be at a high level of 85.9%. The HJT technology is characterized by the absence of the LID effect and the PID effect, thanks to which the degradation of PV modules is kept to a minimum. The use of glass on both sides makes the panels resistant to salt spray, ammonia and fire. Bloomberg NEF also distinguishes Jinergy in its TIER I ranking, which confirms the financial stability of this manufacturer. The HJT panel production process also has an impact on efficiency thanks to:
4 major components in the production cycle versus 7-8 PERC
lower welding temperature in production
the latest technology for cutting silicon cells
average efficiency of HJT silicon 24%
Profitability of Jinergy panels
LCOE and BOS costs are especially important for solar farms and solar power plants. Jinergy panels increase efficiency and the rate of return thanks to:
 1500V work Current
possibility of quick assembly in every plane
working effectively in low light
high power values above 450W
resistance to weather conditions
lower service costs
thanks to high efficiency and reduced degradation (especially the Jinergy HJT series)
bifaciality, allowing for a smaller area to increase the power generated by the photovoltaic farm
The efficiency of the HJT technology, predisposes Jinergy photovoltaic panels to be used in a photovoltaic farm.
The use of Jinergy photovoltaic panels in business installations
In installations with a capacity of over 30kWp, the profitability of the investment is of particular importance. Jinergy modules in combination with a SolarEdge or Kehua inverter will pay for itself up to 6 years. Insurance, lending and leasing are easier to obtain and match with high-performance, double-sided, zero LID and zero PID modules.
HJT Solar Panels for Farmers and Breeders
For farms and poultry, pig, cattle, and pond owners, a photovoltaic installation must be cost-effective and durable. Jinergy provides it thanks to its resistance to salt spray, ammonia and increased resistance to moisture. 50kWp sets on poultry farms are an ideal ratio of return on investment up to 5 years, taking into account local funding, government programs or tax relief. This makes the HJT panel a perfect solution for photovoltaics in farms.
Best Technology in Jinergy HJT Solar Panels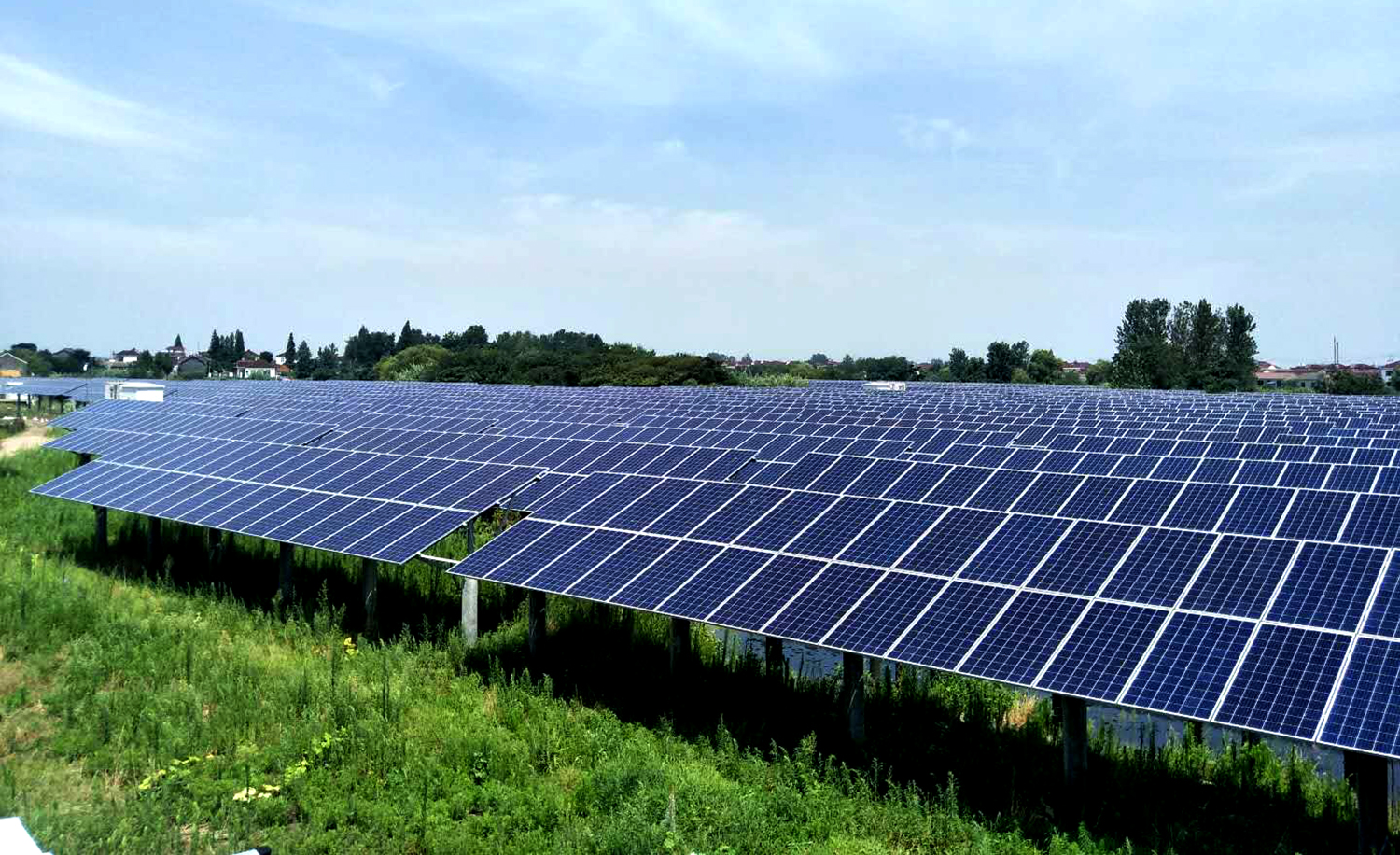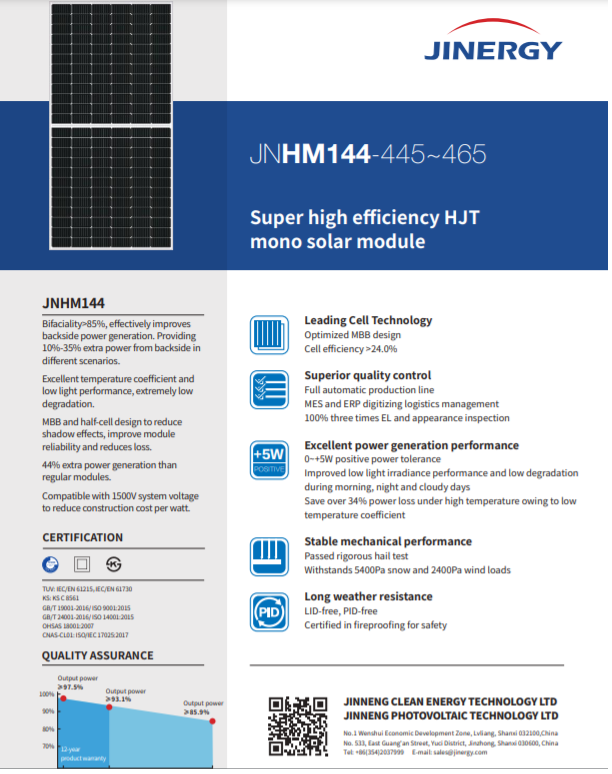 Easy to install solar panels
The latest Jinergy product series with high-performance HJT modules are enclosed in frames with dimensions that fit all available assembly systems. The size of the cells, half-cut technology, and two-sided production make it easy and quick for an efficient assembly team to make a photovoltaic investment. The HJT panel is also the greater strength of silicon, which reduces the likelihood of later service costs and replacement of photovoltaic panels.
JNHM120 cells & power 370W-390W series
JNHM120 cells & power 445W-465W series
Jinergy PERC "GA" JNBM 120 cells & power 355W-375W series
Jinergy PERC "GA" JNBM 144 cells & power 430W-450W series
Profitability of Jinergy panels
The profitability of investments in Jinergy solar panels is at a high level. High-quality workmanship and modern technologies used in the modules of this manufacturer will ensure that:
The return on investment is guaranteed for 30 years, which is 5 years longer than the panels with a 25-year warranty.
The price of the Jinergy HJT Panel (JNHM120 / JNHM144), is a little bit higher at the beginning, but after 30 years without common failures, is worth it.
The cost of Jinergy PERC GA (JNBM120 / JNBM144) dopped with Gall is a good alternative compare to HJT advantages.
The use of Bifacial Modules allows to reduce assembly costs and increase production by up to 30%.
Double-glass modules make the operation of the installation with their use more effective, the degradation is kept to a minimum.
JINERGY sales and distribution