210mm G12/M12 HJT Solar Cell Producer
On this Site You Will Read About
Advance and Reliable Manufacturer
Liansheng PREMIUM Solar Panel
Liansheng producer of Premium HJT solar cells
Leascend Photovoltaic Technology Co., Ltd is a groundbreaking company dedicated to the development, application, and mass production of high-efficiency heterojunction (HJT) solar cells. Their commitment to values such as Win-Win Development, Sharing of Responsibility in Harmony, and Focus on Efficiency has driven them to become a world-leading digital and intelligent manufacturer of HJT solar cells. With the largest floor area, the longest single production line, and the largest individual capacity, the Project is set to be the largest HJT solar cell producer in China. The company's vision is to provide high-performance, high-efficiency, and high-quality photovoltaic products for global customers, ushering in a new era of solar energy and a better future for mankind.
LPV HJT Technology
Combining the advantages of crystalline silicon and film silicon technology, HJT solar cells have excellent light absorption
and passivation effects and are superior to PERC technology in efficiency and performance. HJT solar cell technology is one of
the current battery technologies in the solar energy industry to improve conversion rate and power output to the highest level
and also leads the development direction of the new generation of battery technology.
The bifacial structure of HJT solar cells can effectively improve the backside power output of module products and increase
the power generation income; the extremely low-temperature coefficient enables the module to maintain stable power output
performance even in high-temperature environments; the excellent power output capacity under weak light conditions prolongs
the time of power generation of the module and further improves the power generation income.
Innovative Solar CELL Manufacturer
At Liansheng Photovoltaic, our corporate vision is to become a world-class, high-efficiency solar cell digital intelligent factory. We believe in win-win development, harmonious sharing, and focusing on high efficiency. Our focus is on developing high-efficiency heterojunction (HJT) solar technology and implementing low-cost, high-efficiency heterojunction cell and module mass production technology. Our goal is to become a model project of Lemei New Energy Base and a benchmark for photovoltaic cells in China. We are passionate about providing global customers with high-performance, high-efficiency, and high-quality photovoltaic products and ushering in a new era of photovoltaic energy.
Efficiency - measured by the efficiency of cells - Awesome 25,5%
Production - Measured by cells innovative - NEW 0 BB solar cells
Profitability - price-quality ratio, very profitable solar panel- High Value For Money
Capacity - 8GW Annual Production of bifacial HJT solat cells
Advantages of Mysolar Solar Panels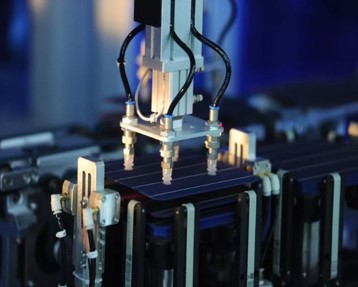 Most Advance HJT Cell Manufacturer
MEET THE Leascend Solar Cells
The Best Premium Solar Cells HJT technology. GOLD Bifacial Series have the highest power production, with high-efficiency cells M12 up to 25%. Additional Mysolar ensures 30 years of product Warranty which is one of the best results in the photovoltaic market.
leascend G12-0BB HJT solar cells
HJT technology is at the forefront of a new wave of efficient solar cells that are revolutionizing the PV industry. The HJT solar cell paves the way for a more stable and efficient approach to manufacturing. By integrating the best of crystalline silicon and amorphous silicon thin film technology into a single hybrid structure, HJT technology produces solar cells with high efficiency and excellent stability. This innovation offers a simplified and low-temperature manufacturing process with an extremely low temperature coefficient, significantly reducing the likelihood of LID and PID effect. The bifaciality of the cell is more than 95% and there is no color difference between the front and back. The advantage of the backside is evident in its power generation, delivering consistent and efficient power output regardless of seasonal changes or climate differences. HJT technology is unquestionably one of the most reputable and game-changing technologies within the solar industry.
Heterojunction n-type Solar CELLs
Heterojunction Solar Cell
High-Performance with N-type Wafers 15BB/18BB/ 0BB M12 HJT Solar Cell is a superior and new high-performance generation of N-type wafers solar cell that generates energy from both sides.
Combines all the advantages of crystalline and thin-film solar technologies in a single hybrid structure. This provides one of the most effective cell passivations on the market for high levels of power and efficiency even in hot climates.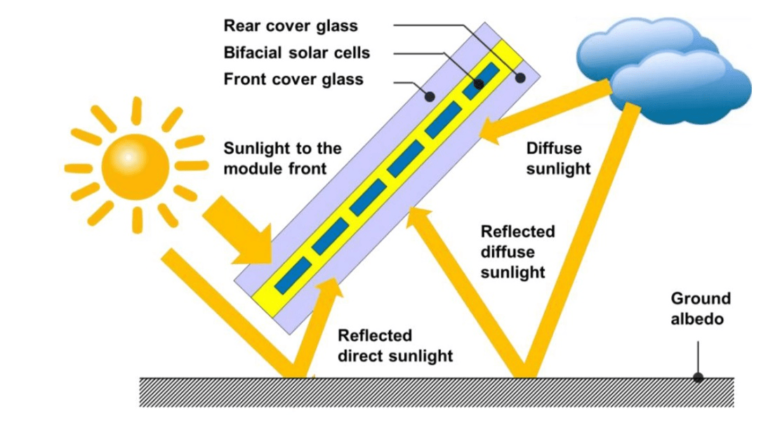 95%+ Higher Bifaciality
Heterojunction (HJT) cells have a natural bifacial symmetrical structure that makes them ideal for use in various application scenarios. With a bifaciality of more than 95%, HJT cells have a superior ability to capture as much sunlight as possible, providing an increased power output. This enhanced energy output makes them an excellent choice for those who want to get the most out of their solar energy systems. The bifaciality of HJT cells is extremely important because it ensures that the cells can harvest energy from both sides, maximizing the amount of sunlight that is converted into electricity. With this feature and high-quality construction, HJT cells are a reliable and efficient choice for those looking to invest in sustainable energy sources.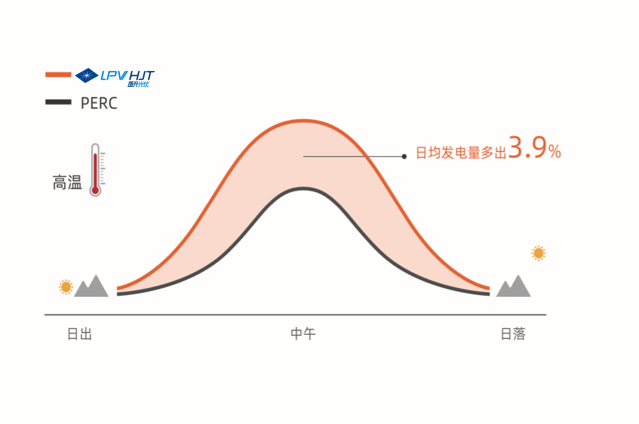 -0.26%/C Extreme low-temperature coefficient
Heterojunction with Intrinsic Thin-layer (HJT) solar cells are an advanced alternative to conventional cells. They exhibit a lower temperature coefficient (-0.26%/°C), resulting in a more stable power output even when exposed to high temperature and high irradiation areas. When compared to other solar cell technologies, such as PERC and Topcon, HJT solar cells demonstrate a higher daily power output of up to 6% and 3% respectively when using modules with the same power. These features make HJT solar cells an excellent choice for applications where consistent and high-performance power output is vital, particularly in remote locations with extreme weather conditions and residential and commercial PV installations, where maximum energy yield is desired. In general, HJT solar cells provide a multitude of advantages over traditional solar cells, making them a valuable investment for any modern energy system.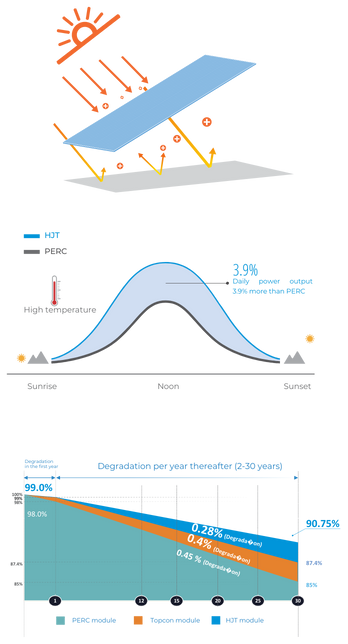 1% first year and 0.28% each year. Lower degradation rate.
HJT solar cells are a fantastic innovation in the world of solar power. These cells are constructed with N-type silicon wafers, which are known for their incredible durability and resistance to what is known as the Light-Induced Degradation (LID) effect. This means that HJT cells are perfect for long-term use and will continue to provide reliable energy for many years to come.

In addition to their durable construction, HJT solar cells also feature anti-reflection and protective layers, as well as TCO film that is conductive. This not only adds to their longevity, but also helps to prevent polarization of the charge on the surface of the cell, which can lead to the undesirable phenomenon of Potential Induced Degradation (PID).

So, whether you are an individual looking to power your home with renewable energy, or a business looking to reduce your carbon footprint, HJT solar cells are a smart choice that will provide you with clean, reliable, and long-lasting energy for years to come.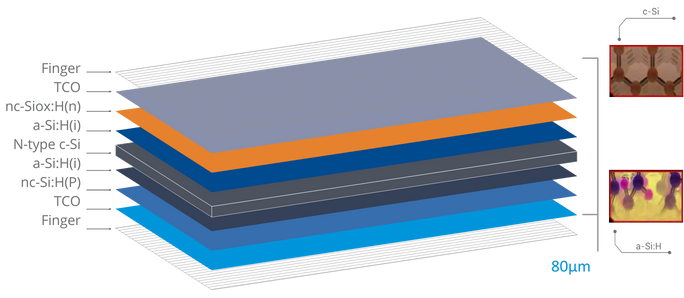 80μm Thinner Wafers
The manufacturing process of HJT solar cells is simplified
and at a lower temperature than conventional solar cells. It's a natural bifacial symmetrical structure that reduces the mechanical stress in cell production, enabling thinner wafers (≤120μm). Combining SMBB technology and 0 Busbar technology, the conversion efficiency can be further improved and costs reduced. With the mass production of N-type silicon wafers, the cost advantage of thin wafers will be more prominent.
Combination with Future Technology HJT + Perovskite
Due to their structure, HJT cells are very suitable to use as substrates to stack with perovskite cells. The combination of these two technologies is considered to be the most promising. Simulations show that the conversion efficiency of the laminated cells can reach more than 35%.
Mysolar Premium & Quality Solar Modules
The source of materials that Mysolar chooses is from reliable domestic and overseas partners, providing quality beyond industry standards.
From the glass and the backsheet to the inside of HJT solar panels, everything of the material was picked carefully to produce the definitely best HJT solar panels, giving our customers the quality they deserve. That's why Mysolar HJT solar panels have an industry-leading performance warranty, which is the degradation at 99% in the first year, after 2nd year 0.25% annual degradation to year 30 from the beginning. It gives a leading performance of 91,75% of power output after 30 years.
Mysolar Solar Panels Performance
As a most innovative and reliable supplier for the production of new energy, the Mysolar is producing Heterjunction N-type HJT high-efficiency solar panels.
Key Figures of Mysolar
Most experienced engineers with more than 15 years in Solar PV manufacturing intelligent R&D team.
Up to 25% Cell Efficiency reach thanks to leading in market R&D. 
3 GW capacity for high power modules HJT(700W) and Shingled (670W).
91,75% efficiency after 30 years.
The efficiency of the solar panel HJT GOLD series is up to 22.53% in serial production and 22,86% for the new modules planned to produce soon. When we add in addition double-sided heterojunction cells with high bifaciality at a level up to 95%, we will achieve a perfect and powerful solar panel.
The super low-temperature coefficient in Mysolar modules is only 0.26% / ℃.
Only technologically the most advanced with n-type wafers  HJT Cells:
plus half-cut technology and MBB12.
A wide range of HJT modules gives the various options of use in:
residential
commercial
utility-scale
agriculture 
special like floating project
The GOLD HJT series with Half-Cut, Double Glass Mysolar Bifacial PV Panels, provides two standard-size M12:
120 Cell 620W up to 640W
and
132 Cell 690W up to 710W
Construction of Mysolar solar panels
Mysolar solar modules:
GOLD Series 620W-640W  (n-type HJT Mono 210x210mm) – (12BB) – (2172 × 1303 × 35) 
GOLD Series 690-710W (n-type HJT Mono 210x210mm) – (12BB) – (2384× 1303 × 35) – 
Himalaya Series Advantages:
Fire class protection
High Energy Yield even in harsh environmental conditions
Glass-Glass frame
Best anti-PID and LID protection
30-year power and product guarantee
After 30 years outdoor work low power lost 
91,75% after 30 years of power output
The bifacial module with high bifaciality >90%
1500V DC maximum system voltage – excellent insulation and lower total cost of the PV system
Super 12MBB Half-cut solution
Extreme Power  Efficiency Solar Module up to ~22.60%
Use of Mysolar solar panels in business installations
The perfect choice for reliable and high-power commercial installation on the roof or on the ground. Perfect match with all inverters on market especially Kehua Tech, SolarEdge, Growatt or SMA. Glass-glass construction combines with fire protection, gives the best-in-market anti-fire solution. Bifiaciality index of up to 92% on-ground installation can produce up to 35% more power. Special abilities of HJT cell let the GOLD series Panel work in low light, like cities pollutions, ensuring maximum production. 
Solar Panels for Utility-Scale Project
Mysolar has a perfect long term ROI index thanks to:
long warranty
high quality 
glass-glass construction
HJT bifacial cells
highest Energy Yield
very low-temperature coefficient 
High Tempered Glass with 93.8% light transmittance
POE Encapsulation
Technology in HuaSun HJT Solar Panels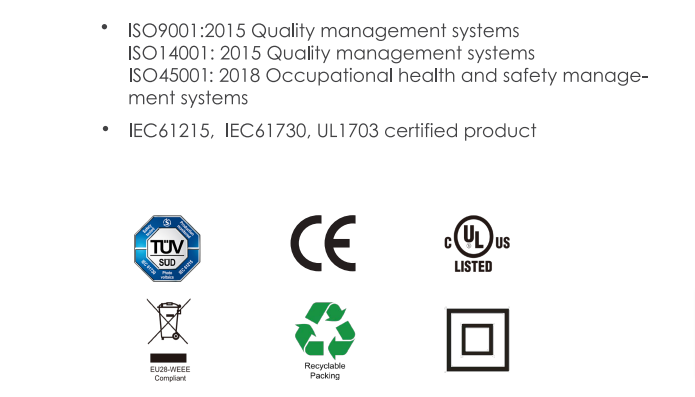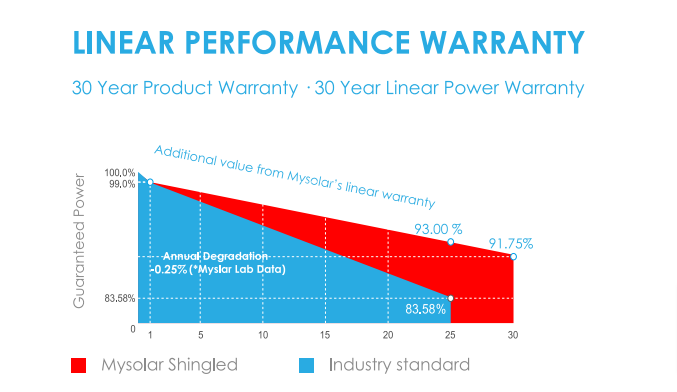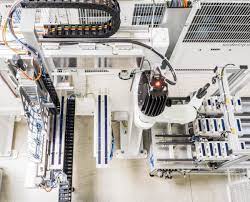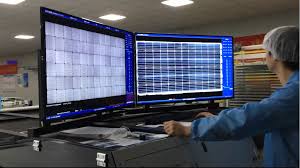 Easy to install solar panels
State-of-the-art solar module construction helps as well as easy and safe install Mysolar Gold series. 35mm glass-glass frame plus standards high module size (210mm) gives various installation options for any EPC and solar farms projects company.
Mysolar Gold HJT Bifiacial Series 620W-640W
Mysolar Gold HJT Bifiacial Series 690W-710W
Mysolar sales and distribution Solar Panels