On this Site You Will Read About
Information about leader in solar market
RISEN producer of HJT solar panels
Risen Energy Co., Ltd. was founded in 1986 and listed as a Chinese public company (Stock Code: 300118) in 2010.
The company is mainly engaged in the research and development, production and sales of photovoltaic grid-connected power generation systems, photovoltaic independent power supply systems, solar cells, modules, etc.
Risen Energy has established offices and branches around the world and established a global sales network,  aiming to provide green new energy to the world. After years of hard work, Risen Energy's module production capacity has now reached 14.1GW. In the process of rapid development, Risen Energy will move forward steadily. HJT solar panels open new are of technology productions module and heterojunction solar cells.
Development Goals
The company will adhere to the business philosophy of:
thinking for progress,
thinking about development,
innovation and entrepreneurship
to create first-class solutions like HJT solar.
Based on the quality policy and research and development efforts, committed to the production of high-efficiency heterojunction cells and modules, to meet the growing needs of domestic and foreign markets.  Risen Energy is a leading international manufacturer of photovoltaic terminal applications.
Risen solar panels performance
The RISEN ENERGY company focuses on high-quality and high-tec solutions like HJT & TopCon technologies. Due to the choice of HJT (heterojunction), which combines the best qualities of crystalline silicon with amorphous thin-film silicon, the efficiency of Risen solar panels is very high. On SNEC 2021 RISEN shows the world the NewT@N panel, which is the first mass-produced module with a power rating of up to 700W. 
Record power plus first combined HJT and TopCon in one product, make this RISEN N-Type solar panel one of the most innovative solutions for utility-scale investitions.
The high efficiency of RISEN ENERGY modules is also influenced by the use of Bifacial technology, no LID effect and no PID effect in the Sieger series – RSM120-6-335W-355W BHDG.
Efficiency - measured by the efficiency of cells and entire modules - 92%
Construction- use of double glass and half-cut - Solid & Reliable 98%
Profitability - price-quality ratio, very profitable solar panel- Value For Money 92%
Mounting - Durable half-cut, glass-glass frame & Bifacial - solid and easy to install solar panels 96%
Advantages of Risen HJT Solar Panels
Risen Energy Company Profile
Best in Class TopCON AND HJT
RISEN HJT Sieger 120 Cells 335-355W
N-Type MBB HALF-CUT BIFACIAL DOUBLE GLASS MODULE
Risen N-type 132 Cells NewT@N 700W
N-Type MBB HALF-CUT Powerful RSM132 MODULE
Risen roof solar Installation
Utility Scale Solar Farm 20mW
Utility-Scale ground Solar Installation
solar plant 2,14mw Installation Risen
How to Chose Best HJT Solar Panel ?
HJT High-Efficiency Photovoltaic Panels
Risen Sieger RSM120 POWER: 335 ~ 355W
Risen NewT@N RSM132 POWER: 680 ~ 700W
Sieger series double-sided (BIfacial) HJT (n-type) module with very high efficiency of solar panel, up to 21%. The Risen module has excellent low light performance, low-temperature coefficient, and very low degradation. Due to the possibility of a rare side generation of energy, the bifacial module provides a power increase of 10% -35% in diverse environments and an overall power increase of 44% compared to conventional photovoltaic modules.
NewT@N Risen PV panel series has extraordinary Maximum Efficiency on level 22,5%. Tremendous solar power up to 700W, dedicated for utility-scale investitions like solar farms and solar plants. First mass production Combination of N-type TopCon technology and heterojunction solution, decrease degradation and increase productions of energy.
HJT Solar Panel Functions
Bifaciality> 85% efficiency and improved rear power generation.
Excellent temperature coefficient and low light performance, plus extremely low degradation.
MBB and half-cut design reduces shadow effects, improves module reliability, and reduces power production losses.
44% more energy than ordinary solar modules.
Compatible with 1500V systems for higher efficiency and lower costs for large investments such as solar farms.
Modern technology based on N-Type technology cells
Combination TopCon and HJT technology
Severe salt mist, ammonia & blown sand resistance
Construction of RISEN panels
As a producer of photovoltaic modules, Risen is in the top 5 best and biggest manufacturer globally. The quality of production is also confirmed by a 30-year warranty against linear power loss in the HJT Sieger series. This ensures that investments to photovoltaic with Risen have long time prediction energy yield.  The TopCon and HJT technology is characterized by the absence of the LID effect and the PID effect, thanks to which the degradation of PV modules is kept to a minimum. The use of glass on both sides makes the panels resistant to salt spray, ammonia and fire. Bloomberg  TIER I ranking plus 14 GW production capacity, confirms the financial stability of this manufacturer.
The HJT panel production process also has an impact on efficiency thanks to:
4 major components in the production cycle versus 7-8 PERC
lower welding temperature in production
the latest technology for cutting silicon cells
the average efficiency of HJT silicon 24%
Profitability of Risen Energy panels
LCOE and BOS costs are crucially for solar farms and solar power plants. Risen 700W solar panel increase efficiency and power production. Hjt technology and HJT Risen modules have abilities like :
 1500V work Current
possibility of quick assembly in every plane
working effectively in low light
high power values up to 700W
resistance to weather conditions
lower service costs
thanks to high efficiency and reduced degradation (especially the Risen HJT series)
bifaciality, allowing for a smaller area to increase the power generated by the photovoltaic farm
The power of heterojunction technology and TopCon tech., predisposes Risen Energy photovoltaic panels to be used in a photovoltaic farm.
Risen Energy – photovoltaic panels in business installations
Every business, commercial and utility-scale solar installation is oriented to ROI. Each aspect like:
long warranty
high power 
less labor cost
bifacial production
environment friendly 
less service issue
is very important for investors. Modules RSM120 BHDG HJT and RSM132 N-type are dedicated to big PV installations. 
Risen solar modules with a inverters like SolarEdge or Kehua will be best installation estimate for long time period. One of the highest experience and knowledge in photovoltaic branch with high-performance, bfiaciality, zero LID and zero PID modules, gives reliable investment in solar energy.
HJT Solar Panels for Farmers and Breeders
Thanks to certifications to withstand severe environmental condition like:
farms and poultry,
pig, cattle, and pond owners,
coastline 
mountain area
BIPV 
Risen photovoltaic installation is cost-effective and durable.
HJT RISEN provides resistance to salt spray, ammonia and increased resistance to moisture, so is dedicate choice for every environment. This makes the HJT panel a perfect solution for photovoltaics in farms.
Technology in RISEN HJT Solar Panels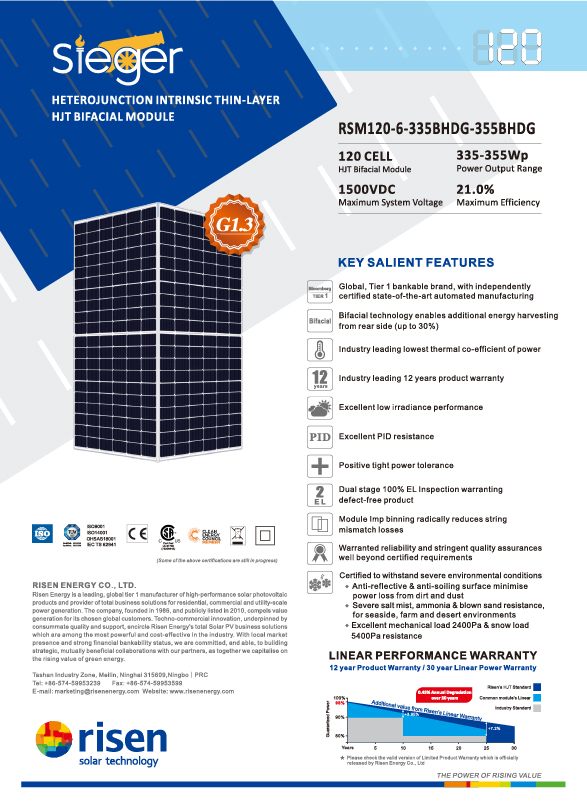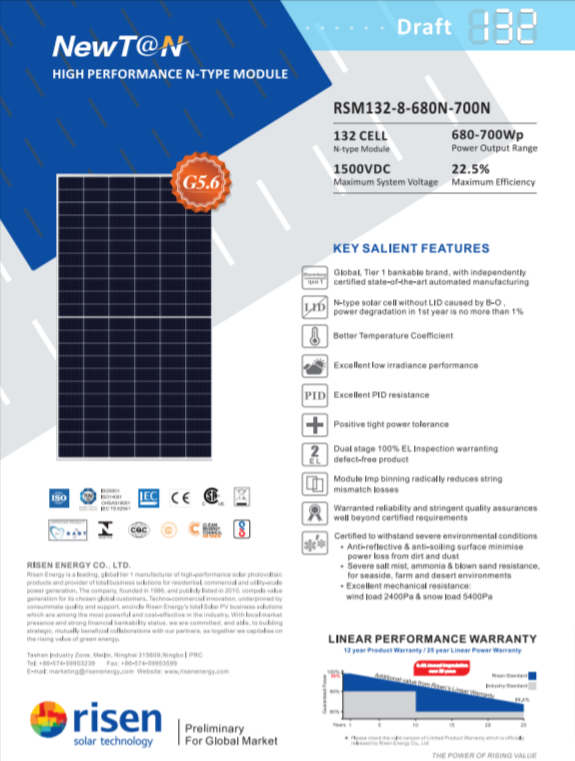 Easy to install solar panels
The newest Risen product series "sieger" with high-performance HJT modules are enclosed in 30mm frames with dimensions that fit all available assembly systems. The size of the cells, half-cut technology, and two-sided production make it easy and quick for an efficient assembly team to make a photovoltaic investment. Module Imp binning radically reduces string mismatch losses and dual-stage 100% El Inspection warranting defect-free product.
The HJT panel is also the greater strength of silicon, which reduces the likelihood of later service costs and the replacement of photovoltaic panels.
RSM120 BHDG cells & power 335W-355W Sieger series
RSM132 N-type cells & power 680W-700W NewT@N series
Profitability of Risen panels
The profitability of investments in Risen solar panels is at a high level. High-quality workmanship and modern technologies used in the modules of this manufacturer will ensure that:
The return on investment is guaranteed for 30 years, which is 5 years longer than the panels with a 25-year warranty.
The price of the Risen HJT Panel (RSM120 BHDG), is a little bit higher at the beginning, but after 30 years without common failures, is worth it.
The cost of Risen NewT@N N-type (RSM132 ) dopped with Gall is a good alternative compare to HJT advantages.
The use of Bifacial Modules allows to reduce assembly costs and increase production by up to 30%.
Double-glass modules make the operation of the installation with their use more effective, the degradation is kept to a minimum.
Risen sales and distribution